Far too many people spend thousands of dollars on expensive custom-built hot tubs looking for a way to relax on a nice summer evening. Many people never realize that there is a cheaper, much easier and even portable alternative lurking just around the corner:
An Inflatable Hot Tub
Now all we have to look is the price differential. A decent inflatable hot tub will cost you around 300-500$ (depending on which features you want), on Fixr.com, a regular hot tub will cost you 3.5k dollars just to have it installed! That's 10x more for a traditional model.
Wondering how are you are going to sort through all the information on the internet to find a hot tub that suits you? We spent over 36 hours researching, compiling and getting information made for this guide to help you find your way through the mess surrounding the top portable jacuzzis available today.
Here we give you the most regularly updated, researched and well-written guide to help you find the best inflatable hot tub you can buy today!
Here are our top picks!
Our Selections for the Top Inflatable Spas
Intex Purespa 6-Person
The Intex Purespa 6-Person is the best combination of capacity, value and features in a spa that we could find. The water quality of this jacuzzi is amazing because it has a built-in saltwater and hard water treatment system that makes the water feel so great against your skin. This hot tub fits 6-people comfortably and has an impressive 210 gallon water capacity. The Intex Purespa is also manufactured to be incredibly durable and long-lasting with strong 3-ply laminated PVC sidewalls.
The setup is also quite easy with a digital control panel to control temperature, water quality, maintenance and others. This feature packed jacuzzi is one of the best selections on our list and deserves the top spot here.
Highlights:
Impressive 210 Gallon Water Capacity

Easy setup with a digital control panel

3-ply laminated PVC sidewalls

6-person capacity

Hard/Saltwater treatment system
Coleman Lay-Z Spa
The Coleman Lay-Z is perhaps the fastest and easiest to setup model we have here, it only takes around 25-35 minutes without any tools to inflate with the bundled pump. Like the Purespa, the Coleman includes an easy to use control panel interface to control different things like heating and timing of the water and also has Coleman I-Beam construction with 3-ply PVC. The floors are also padded for additional comfort and to help prevent heat from escaping the hot tub to the ground.This spa also has a 4-6 person capacity making it a great option for families. It's quite portable and is ideal for families who travel and vacation frequently.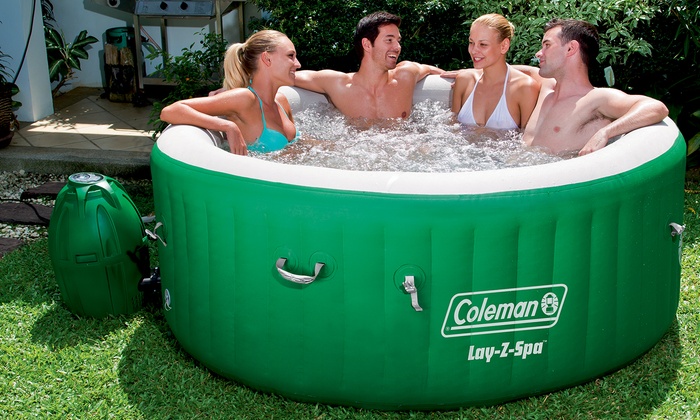 Highlights:
25-35 Minute setup time

Included pump

Easy to use control panel

Very Portable

6-Person maximum capacity
Coleman Miami 4-Person
The Coleman Miami is a more budget version of the Lay-Z Spa, it provides many of the same great features at a lower and more affordable price. This jacuzzi emphasizes portability, with accessible handles on both sides and being lightweight assist in carrying the spa around on vacations. Like the Coleman Lay-Z, the spa is fabricated using an I-Beam construction with 3-ply PVC sidewalls, making the Miami a stable and durable hot tub. With Padded comfortable seating this model is sure to satisfy you.
Highlights:
Durable I-Beam construction with 3-ply PVC Sidewalls

Budget pricing

Very portable and accessible

Comfortable Padded Seating
Intex 85-Inch Portable Bubble Massage Set
The Intex 85-Inch offers a great experience at a decent price, including many great features that are usually only available in traditional hot tubs. With a durable 3-ply PVC Construction and a hard-water treatment system built-in. The Intex 85-Inch sounds like it should cost quite a lot. That's not even mentioning the included goodies like a Ground Cloth, Test strips, Filter Cartridges and an inflatable hose. All of these features and included accessories give this model great value, normally these different features would cost a lot more and are usually not available in a portable jacuzzi. With a large 290 Gallon water capacity and 6-person seating, this is sure to be a hit with any family.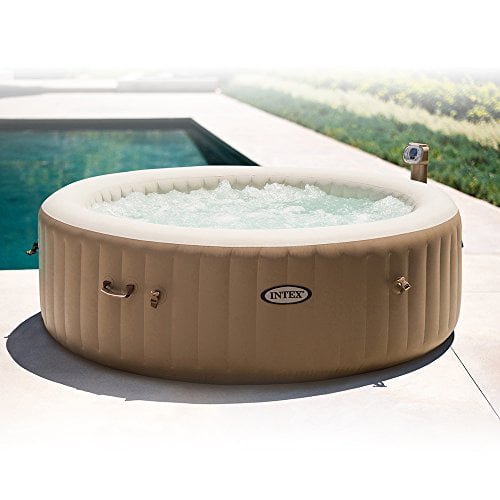 Highlights:
Large 6-Person Seating Capacity

290 Gallon water capacity

A lot of included accessories

Durable 3-Ply PVC Construction

Hard-water treatment system

Great overall value
Saluspa Miami Airjet
This is one of the budget models on this list that we selected from many others. Due to its low pricing, you can't expect amazing features from the Saluspa Miami, but it still has some things to show for itself. Like other selections on this list, the Saluspa Miami has durable I-Beam construction and sports great portability due to its small profile and weight, the included control panel also allows for temperature management (Up to 104 Degrees Fahrenheit , water quality adjustment and management of the spa.The Saluspa Miami also has an built-in pump that makes setting up the spa incredibly easy and fast, just make sure to consult the included setup DVD for more information.
Highlights:
Very portable

Durable I-Beam Construction

Included control panel

Good budget pricing

Up to 104 Degrees Fahrenheit temperature
Portable vs. Regular – Key Benefits
Ease of Use:
The most obvious one on this list. A portable spa is much easier to use and setup, being smaller and many times having included setup instructions and tools, you don't require to hire a contractor to setup a portable hot tub for you, saving you thousands of dollars and a lot of time as well. Even in-experienced people can setup a portable spa without trouble. With a portable model you don't have to ask for pricing or go through any time-consuming and tedious steps, all you need to do is inflate and heat the water up and you are set!
Budget:
Many people on a budget simply cannot afford to purchase a regular jacuzzi due to the cost involved, according to Fixr it costs on average around 3.5k dollars to have a regular hot tub setup (Possibly costing up to 8000 dollars depending on different factors). A inflatable model can cost as little as 300 dollars and requires no contractor either. According to some other sources (HomeAdvisors), a regular model can cost up to 20 thousand! With other costs this could easily pile up to over 21,000 or even higher costs, that's nearly 210x the cost of an inflatable model!
Much Easier to move:
Unlike a regular jacuzzi, you don't need to manually uninstall (or have a contractor) a portable spa if you don't want it anymore. A portable spa can simply be deflated and moved wherever you wish, you can take it on a vacation or when moving to a new home easily without any fuss. Most portable models also come in at 100 pounds or so, meaning that you only really need two people to move an inflatable spa out of your home and to a new location. This is one of the best things about a portable jacuzzi, they are easy to move and can be used in pretty much any context as long as you have the proper prerequisites to ensure proper function.
Health Benefits of using a Hot Tub
Helps with Sleep:
Take it from us, we know how it's like to have bad sleep issues. A hot tub can easily help you relieve your sleeplessness. It helps with modulation of internal body temperature keeping it at a more consistent heat range, this will help you relax and have more high-quality sleep (which we all need)
Helps with Diabetes:
Hot tubs are known for helping diabetes patients regulate their blood sugar levels, according to medical studies (Link to the page on Swim University) Blood sugar levels of Type II Diabetes patients after repeated and consistent use of a hot tub reduced nearly 13%. This can be a very good improvement for patients suffering from diabetes.
Helps with Chronic Back Pain:
Amazingly, many people suffering from chronic back pain – which can be incredibly painful and debilitating – noticed a clear drop in their level of back pain after consistent use of a spa. Although this is purely anecdotal, this is consistent with other studies showing the benefits of temperature modulation on pain perception in the body.
Relaxation:
The most obvious benefit of all and probably the reason why you are even thinking of buying a jacuzzi: Relaxing. Studies (read more on LiveStrong) have shown stress levels will decrease when you use a spa on a consistent basis. Something to do with temperature, better sleep and the smooth water helps you relax and forget about your stressful life.
Increases Circulation:
Heat causes objects to expand, this is no different in your veins and arteries. By increasing the temperature, your heart is able to pump blood much more effectively through your blood vessels, leading to better blood flow – which can even lead to better overall health.
Maintaining your Portable Spa
First steps
Make sure to use a chemical floater or some sort of maintenance chemicals like bromine in your water, without these essential ingredients you will quickly see your water getting very dirty and cloudy (filled with muck and bacteria). Another thing you may want to watch out for are puncture hazards, despite having puncture-resistant (not proof) sidewalls, a large and sharp object can poke a huge hole through your sidewalls, leading to your hot tub leaking and becoming unusable, you would have to return the spa to Amazon and they may or may not give you a refund or a replacement (depending on your warranty).
Regularly replace your water
After using a hot tub, a small amount of muck and grime gets stuck in the water after you are done, after a while this can build up and become a serious health hazard. Make sure you regularly replace your water after perhaps 1-2 uses. Even with the proper maintenance chemicals it is advisable to replace your water regularly.
Regularly replace your filters
Filters don't last forever, filters will eventually succumb to accumulation of muck and dust as well. This can lead to drastically lower water quality, possibly to the point of danger. Unclean water can lead to bad infections, unpleasant bathing experience and uncleanliness. Replace your filters after a certain amount of use to alleviate this problem.
What Factors Should I Be Thinking About When Purchasing A Portable Jacuzzi?
Features:
This is the most obvious part, all other things are secondary to the features you want. All of the selections on this list have some basic features such as reinforced sidewalls, portability (duh, why would it be called portable unless it was: PORTABLE) and decent capacity. There are many other features that may you may or may not want based on what your preferences are such as:
Capacity

Maximum Temperature

Hard or Saltwater Filtration Systems

Water Capacity

Accessories

Seating

Many Others

Number of Water Jets
Make sure you take these features into account when selecting a model for you and your family.
Warranty:
You should always make sure you have a good return policy and warranty to go with your purchase, just imagine if your spa breaks down 2 weeks after purchase. This would surely be a hard pill to swallow wouldn't it? Especially if your purchase is not refundable due to a short return period. Most models will have 1-2 year warranties and 14-30 Day Return policies, make sure to check these out on your own when purchasing.
Budget:
Your budget will largely dictate which selection you choose, you may or may not have to compromise based on limits on your budget. Many higher-priced models will have extra features like padded floors or 6-person capacity, a lower-priced model will tend to have less features and smaller capacity although this is not always the case. You may also want to look at the included accessories as a cheaper model may not have as many and may result in less value overall for your money.
Electrical Cost:
Largely dictated by your models electrical efficiency, this will vary from model to model. When selecting your model, look at the electrical efficiency as well as calculate the total cost after your timeframe of use to see which model is the best overall.
Other Factors:
If you only decide to use your portable hot tub for a season during the year, or perhaps you only intend to use it with 4 people, or perhaps you not that picky with features, or maybe you are new to purchasing hot tubs and wish to use less money on your first tub. You'll want to carefully consider these factors before choosing a model.
(FAQ) Frequently Asked Questions
How much money on average can I save if I buy an inflatable hot tub vs a regular one?
A regular hot tub can cost over 20 thousand dollars, a very good inflatable model will run you about 500 dollars. That is a 3900% saving on your hot tub! An incredibly large amount saved, and a 500$ inflatable hot tub can also have many of the same exact features as a traditional model will have.
Spa Water Treatment:
Make sure to check your individual model for varying specific chemicals you need to use, in general the same chemicals that you use in your pool can be used in your hot tub (to some degree).
Here is a general guideline for treatment:
PH Treatment:
You'll want a PH of around 7-8, this is the goldilocks zone for PH. If your PH is too low or too high, you'll have to look for a PH Increaser or decreaser to bring it back to the recommended level. Some good PH Increasing chemicals include Sodium Hydroxide(NaOH, or Caustic Soda, a very strong base), PH Decreasing chemicals include Sodium Bisulfate.
Alkalinity Treatment:
You'll want a Alkalinity of 80-120 ppm. If your Alkalinity is too high or too low you'll have to use a alkalinity increaser or decreaser. Alkalinity increasers include simple baking soda (sodium bicarbonate) decreasers include: Muriatic Acid (Available at most hardware stores)
Cleaning Chemicals:
Bromine and Chlorine are the most popular options, Bromine is cheaper in the long run but Chlorine is easier to use and also acts quicker, it will depend on your preference as to which chemical you choose.
Of course there are plenty of more chemicals and treatment options, but you should look at a more in-depth guide here
What about buying spare and new parts?
You should look at your instruction manual and at the manufacturer's store or Amazon for buying replacement parts, you should always put effort into using parts from your specific manufacturer as third party parts may or may not work with your model, however if you have done proper research you can buy from a trusted third party vendor if you wish.
Conclusion:
Thank you very much for reading our guide on buying the top portable jacuzzi's available on the market today. We hope that this guide was informative, easy and helped you in your quest to find the best inflatable hot tubs today!
Thanks for reading!