People spend thousands of dollars buying expensive in-ground pools to open for the summer, however, a lot of people neglect a much easier and cheaper way of getting a swimming pool –
The above ground pool
A good above ground pool can be up to 500$ in cost, while in-ground pool can cost up to $20,000 to buy and setup – for a basic 16×32 model. (From a Walmart employee)
Today we have sorted out through clutter and noise surrounding the best swimming pool options available, we present the best, most well-researched buying guide for the best above ground pools you can by in 2017.
Let's move on to our selections!
Our Picks for the Top Above Ground Swimming Pools
Intex Ultra Frame
The Intex Ultra frame receives all the credit for being a premium pool, despite being one of the more expensive choices on this list it also has the best value. As the flagship Intex model, the Intex Ultra Frame is definitely one of the more feature packed models on this list. Along with the usual PVC Laminated sidewalls, the steel frame is coated with powder to ensure rust resistance and durability. The included accessories and pumps are also much higher quality than the Intex Easy Set or the Intex Metal frame (Both the Easy Set and Metal Frame have pumps in the range of 530 GPH – 1000 GPH, 1500 GPH) while the Ultra Frame includes a pump with 2100 GPH – 2800 GPH capacity.
Highlights:
Reinforced PVC Sidewalls

Metal frame is powder coated for rust resistance and durability

Includes a much more powerful pump than the Intex Easy Set and the Intex Metal Frame

High Water Capacity
Intex Metal Frame
This is another great budget offering, if you are wary of buying an inflatable pool but still want a budget model, this is the next best thing you can get. It includes the same durable PVC laminated sidewalls, dual suction outlet fittings, filter pump w/ GFCI along with a robust and durable metal frame. All of these features are also combined with the fact that it is also quite in-expensive, this is great for low-mid budget buyers that don't need a premium model but don't want to settle for a inflatable pool.
Highlights:
Durable metal frame

Dual Suction Outlet Fittings

PVC Laminated Sidewalls

Filter Pump w/GFCI
Bestway Power Steel Metal Frame
The Bestway Power Steel Metal Frame is a formidable offering in today's market, it includes many of the same great features that most Intex pools have like: Reinforced sidewalls (it uses Bestway's TriTech three layer sidewalls), Robust metal frame and a high power pump. The Bestway also has a heavy duty rust resistant steel frame and includes a cover, a ground cloth and a ladder. All of these great features come with a low-mid range pricing makes the Bestway a great selection to consider when looking at options for above ground swimming pools.
Highlights:
TriTech 3-ply reinforced sidewalls

Frame is made of rust resistant steel

Includes many great accessories
Summer Waves Rectangular Frame
This pool made this list because of its unique Skimmer Plus filtration system, which does some terrific work at filtering muck out of the water. Another great unique feature is the U-Shaped Frame system, which allows for an easy assembly, simply snap on the legs and its is ready to be used. Of course, it also has reinforced PVC sidewalls with a durable frame, but the main reason why this model made the list is because of the unique filtration system and the easy U-Shaped Frame system.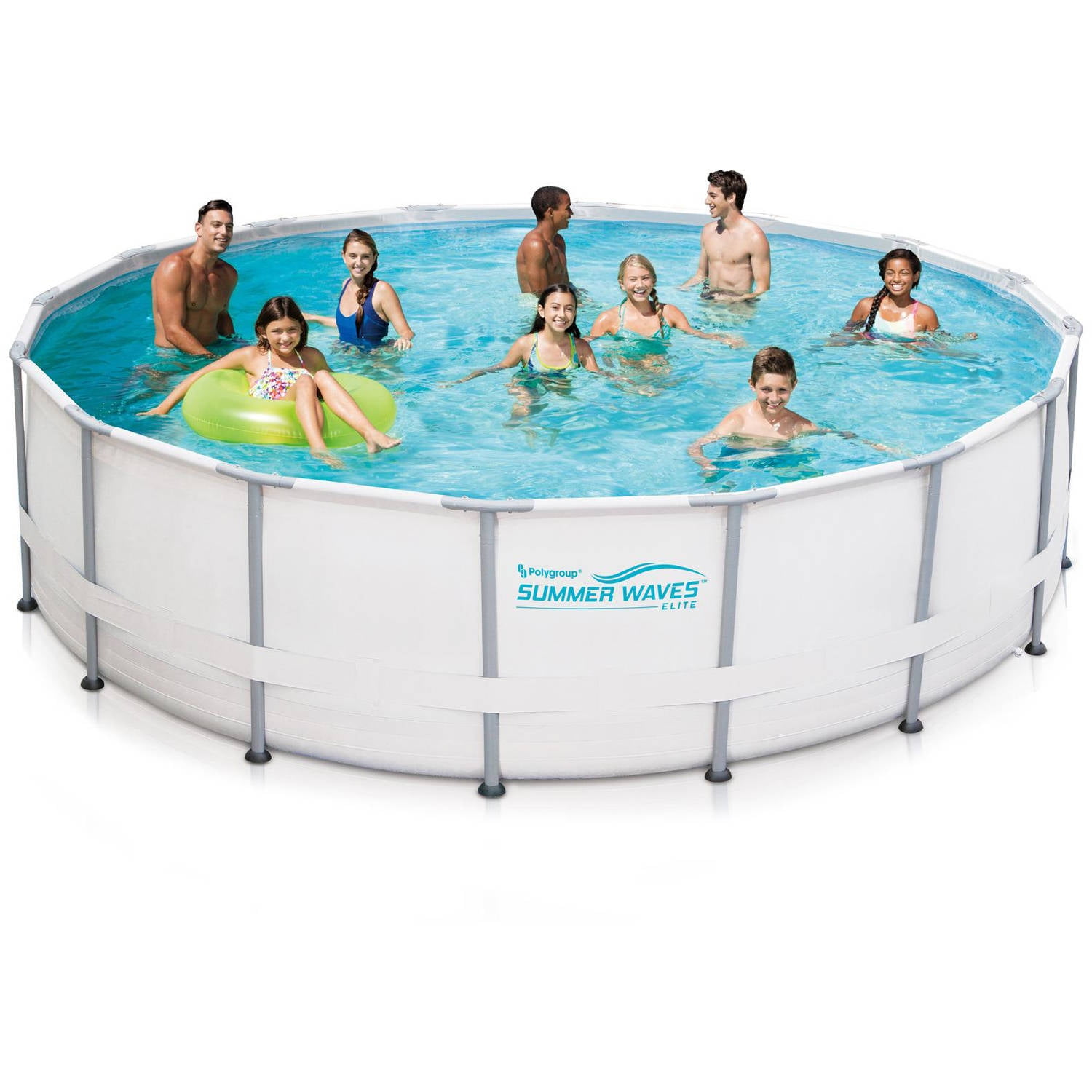 Highlights:
Skimmer Plus Filtration system

U-Shaped Frame System

Easy Assembly

Reinforced PVC Sidewalls
Intex Oval Frame
This is a great middle of the road option for people who want a higher quality inflatable model than a budget inflatable pool. The Intex Oval frame includes most of the same great features as the Intex Easy set does, including the Krystal Clear Cartridge Filter Pump (With 1000 GPH / 1500 GPH depending on the size), a durable frame and an easy setup (being inflatable). All of this plus the larger capacity and unique shape make this model a formidable offering.
Highlights:
Easy Setup

Krystal Clear Filter Pump

Durable frame

Includes many great accessories like a cover and ladder
The Intex Easy Set
The Intex easy set is probably one of the cheapest and easiest to maintain above ground pool available today. Because its inflatable, all you need is 15 minutes and a pump to set it up and the rest is just filling it with water. Even though it's inflatable, the Intex Easy Set has impressive construction and durability, it has tough industrial standard PVC-laminated sidewalls and a durable frame to hold it. With a 3736 Gallon capacity the Intex Easy Set can fit a decent amount of people as well. It also has some great features that normally wouldn't be expected for such a cheap price, The included pump has GFCI (Ground Fault Circuit Interrupted) built in – A safety feature that shuts down the circuit if the current is flowing through the wrong target (such as through water or through a person), Dual suction fittings – which improve water quality by enhancing the circulation of water – and an impressive Krystal Clear Cartridge Filter Pump, which is actually a standalone product on its own. All of these combined make the intex easy set a top budget selection for an above ground pool.
Special Features:
Dual Suction Fittings

Includes Krystal Clear Cartridge FIlter Pump

GFCI Safety feature

Assembly only takes 15 minutes
Includes a high power pump
What are some other things that I should consider when looking for swimming pools that are designed to be used above ground?
You might be wondering, what other sort of accessories above ground pools usually have? We have more well written guides to help you buy the best components you can for cleaning, heating and many others. These five accessories below are usually what people buy if they have a bit of extra money after they are done purchasing.
Maintenance:
Chemicals needed for a pool:
Chlorine:
Chlorine cleans the water by killing and reducing the amount of bacteria in the water, without chlorine the pool will quickly become very dirty and even dangerous to swim in (If you accidentally drink the water you could become violently ill) make sure you have chlorine ready unless you want to refill your pool evey time you use it.
   PH Balancers:
These are used to either increase or decrease the PH of the pool to a desired level of around 7, PH Increasers are basic compounds like Soda ash while PH decreasers are acids like dry acid.
   Algae Removers:
These chemicals are used to remove algae build-up, these are only used on occasion when algae builds up to intolerable levels.
   Anti-Phosphate Agents
These chemicals will prevent phosphates from building up in the water, phosphates keep Algae alive so adding this will choke off the algae build-up
   Bromine:
While this chemical is used more for hot tubs/spas, they can also be used with pools. Chemically similar to chlorine (both in the highly reactive group 7 elements), Bromine is an equally effective sanitation agent to use.
  Other Chemicals:
There are plenty of other chemicals that can be used in conjunction with these other chemicals, be sure to read up on good sites like:

The Pool Center

or

InTheSwim

or our own guide on Pool Chemicals to get more in-depth information about chemicals need for maintenance.
Vacuums/Cleaners:
These are some of the more important accessories you should get, with no cleaner your pool can quickly get gross and dirty, eventually it would build up to a point it will be incredibly difficult to clean. Muck and Grime can easily get into a pool and ruin it after a while by wearing down the filter and reducing water quality. With a good cleaner the task of cleaning will be made significantly easier and will help the durability of other parts like the pump and filter.
Pumps:
The pump is analogous to the heart in the human body, without a good pump, your pool will quickly accumulate grime, muck, dirty and algae. They also help the operation of your pool and make your swimming experience better.
Experience:
Heaters:
A good model can help with extending the amount of time you can use your pool in a year, without a heater you will really only be able to use it for around 5 months, after which it will become too cold to use. Heaters can help get some extra mileage out of your pool and will also greatly enhance your swimming experience (no more shivering when you swim)
How to find the right swimming pool selection for me?
The right selection will vary from person to person, things like these will influence it
Budget
Above ground pools can range from less than 75$ to over 600$ depending on the model you decide to buy, generally speaking, higher priced selections will be much better in quality although there are exceptions. You may decide to settle for a lower quality inflatable model instead of a metal frame model if your budget isn't high enough. We recommend a budget of at least 300$ when looking for a moderately sized pool, remember that higher price does not always equate to better quality, make sure to look at the Amazon reviews first.
Size
This really depends on personal preference and the area you have to work with. If you desire a oval shaped pool, you will need to have a larger backyard to accommodate it vs a similar sized rectangular or square model. Also note that a bigger pool can be more difficult to setup and will require higher capacity pumps, filters, heaters, etc… to make it work. So you may want to take the price of higher capacity accessories into account as well.
Personal Preference
We've tried our hardest to supply good and actionable information as to which selection you may want, you will need to look at your own personal preferences in size, shape, price and other factors while looking for the right selection.
In-Ground vs Above Ground
In-ground pools are generally much more expensive and also a lot more time consuming to setup, many people believe it's worth the extra money and time but a good selection will run you about 400-600$ depending on the selection you decide to purchase, with an in-ground pool you could spend up to 25,000$ and spend up to a month getting the entire thing setup. Is it worth it? Hard to say, but in-ground pools are definitely much harder to setup and expensive to buy.
Setting Up your Swimming Pool
The vast majority of above ground pools will generally only take an afternoon or so to get setup, many kits also contain tools and in-depth instructions to make the setup even easier. If this isn't enough to make you feel comfortable there may be professionals in your area that will setup your pool for you, but that depends on your area and budget.
Steps:
Find a suitable setup area
Such as a backyard or a large open space of some sort, it should preferably be flat/non-sloping and have adequate space to house your pool.
Places where you shouldn't setup your pool in
Non-flat surfaces – Non flat surfaces put a lot of tension and stress on the frame of your pool due to the difference in pressure on both sides of the pool, this can cause breaks, leakages and a whole manner of annoyances that will be costly to clean up and repair.
Spaces with Debris – Debris can easily cause a tearing in the liner of your pool, the can cause the pool to leak out in some hilarious ways like this:
Measure the area
Use a tape measure to measure the radius (this will generally be unnecessary if your setup site is a lot larger than your pool, but might be necessary if you are not certain)

Calculate using the value A=pi * (radius squared) the area of the pool

We recommend having the setup area be at least 20% larger in terms of area than the actual pool
Get the area prepared and start setting up
Remove any noticeable debris such as rocks, sticks, tree-branches or other miscellaneous obstructions

Remove the top layer of the ground and flatten the remaining dirt

After flattening the ground, add sand as a base for the pool and flatten the sand again
Check your buyers manual for the complete instructions, make sure you read it carefully and well, you need to know the steps well for the setup to go smoothly

Setup the frame or the support to the pool, make sure to fasten all the screws and bolts tightly, water weighs quite a lot when you take into account how much will be required to fill up the pool.
Final Stages
Filling the pool isn't very difficult, you can do it basically any way you want, we recommend using a garden hose, it will probably take at least 10 minutes of continuous running to complete.

Add any sort of pre-prepared maintenance requirements like adding chlorine or adding a cover

Check for any leaks or tears in the liner, contact Amazon immediately if you find any.

Take a look at the manufacturer's guide for the pump, connect the pump to the proper inlet and outlet channels on the pool and your pool is ready to be used.
Frequently Asked Questions (FAQ)
I just can't decide which model is the best for me
Check out more in-depth reviews of each pool under the pool model, those can help you in your quest
Where can these pools be shipped too?
Depends on the specific model, generally speaking these pools can be shipping to the US and possibly Canada.
What about warranty for my pool?
This depends on your manufacturer, most will have a 1-year or 2-year policy, but this will depend on the individual policies of your manufacturer.
How long should it take to set one of these up?
They usually do not take long, especially with an inflatable model. This depends on both the pool model and the experience of those involved.
What should I do if my pool breaks?
Immediately contact Amazon as soon as possible and ask for a refund quickly, if you don't do it quickly enough you may not be able to return your pool
Summary
Thank you for reading our guide for buying an above ground pool, we hope that this guide helped you find the best above ground swimming pool you can get today. We spent countless hours researching, compiling and writing this guide for you to choose the right pool for you and your family.
Thanks for Reading!